Following in the footsteps of center Yao Ming's success with the Houston Rockets, China's next major exports to the American sports stage could be in the Women's National Basketball Association.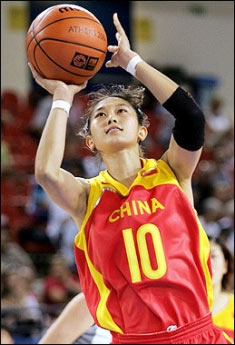 China's Sui Feifei in 2004. [AFP]
China's Sui Feifei and Miao Lijie are among 18 players seeking 12 roster spots on the Sacramento Monarchs, with both likely to make the final roster for the club's season opener May 21 at Phoenix.
China's first WNBA player was Haixia Zheng, who played for the Los Angeles Sparks in 1997 and 1998, the league's first two seasons.
Small forward Feifei became only the second Chinese player to sign with the US women's league and guard Miao followed in March. Their growth in the WNBA could help China improve upon that showing at the 2008 Beijing Olympics.
"In terms of fame, Feifei is the Yao Ming of Chinese women's basketball," Monarchs coach and general manager John Whisenant said. "She's a small forward who can run and shoot the ball well. We are excited to see how she fits into the WNBA."
Feifei, 26, is a three-time Most Valuable Player of the Women's Chinese Basketball Association (WCBA), having helped Baiyi win the past four Chinese crowns. She averaged 20.3 points, 4.0 rebounds and 3.1 assists for Baiyi.
Feifei also averaged 16 points and six rebounds for China's ninth-placed team in the Athens Olympics.
Miao, 24, has led the Chinese league in scoring in each of her four WCBA seasons, all with Heilongjiang, and has spent eight years on the national team. She averaged 13.8 points at Athens and 26.4 points in the past WCBA season.
"Miao appears to offer what we need for the upcoming season," Whisenant said.
Miao scored 12 points for the Monarchs in a 103-79 pre-season victory last week over the Chinese national team.
[1]