MOSCOW – President Barack Obama and Russian President Dmitry Medvedev signed a preliminary agreement Monday to reduce the world's two largest nuclear stockpiles by as much as a third, down to the lowest levels of any U.S.-Russia accord, and counter what Obama called "a sense of drift" in the countries' relations.
"We must lead by example, and that's what we are doing here today," Obama declared in a Kremlin hall glittering in gold. "We resolve to reset U.S.-Russian relations so that we can cooperate more effectively in areas of common interest."
The document signed by the two leaders at a Moscow summit, Obama's first in Russia, is meant as a guide for negotiators as the nations work toward a replacement pact for the START arms control agreement that expires in December. The joint understanding also commits the countries to lower longer-range missiles for delivering nuclear bombs to between 500 and 1,100.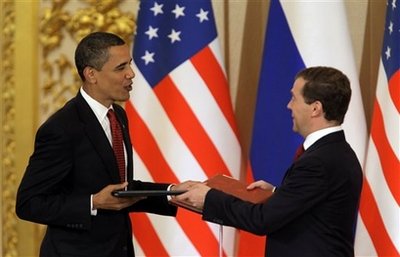 The President of the United States, Barack Obama, left, and Russian President Dmitry Medvedev exchange documents during their meeting at the Kremlin Palace in Moscow, Russia, Monday, July 6, 2009. [Agencies]
The limit for warheads would be in a range of 1,500 to 1,675 each. However, there are disagreements on what to count.
Medvedev called Monday's agreement a "reasonable compromise."
A White House statement said the new treaty "will include effective verification measures" and Obama said it would be completed by the end of the year. He also held out hope to "move even beyond that in subsequent agreements and treaties" and said he wanted to host a summit on global nuclear security next year in the United States.
More broadly, Obama needs Russia's help in pressuring Iran and North Korea to give up their nuclear weapons ambitions, and also in tackling terrorism, global warming and worldwide economic woes. But ties are frayed over Moscow's war in Georgia last year and the U.S. plan for a new missile defense system in Eastern Europe, so Obama's desire to move forward is a huge test of his diplomatic skills.
"The president and I agreed that the relationship between Russia and the United States has suffered from a sense of drift," he said at Medvedev's side. "President Medvedev and I are committed to leaving behind the suspicion and rivalry of the past."
His host expressed similar good will.
"This is the first but very important step in improving full-scale cooperation between our two countries, which would go to the benefit of both states," the Russian leader said. Injecting a note of caution, he said that discussions so far "cannot remove the burden of all the problems."
The two leaders appeared together at a news conference where they and other officials from both countries signed and exchanged documents with great flourish and much handshaking.
Among the side deals meant to sweeten Obama's two days of talks here and show progress toward improving badly damaged U.S.-Russian relations was permission from Moscow for the United States to transport arms across its land and airspace into Afghanistan for the war there. Obama said the deal will save the U.S. "both time and money," to the tune of $133 million a year, by waiving transit fees and shortening flying time.