URUMQI: Several hundred rioters were under arrest in the Xinjiang Uygur autonomous region Monday after at least 156 people were killed and about 1,080 others injured in riots that erupted in the capital on Sunday night, officials said Monday.
Li Yi, head of the publicity department of the Communist Party of China (CPC) Xinjiang regional committee, said early Tuesday morning that the dead include 129 men and 27 women.
The police put the death toll at 140 as of midday of Monday. Among the 16 newly reported dead, some died in hospitals and others were recovered from street corners, the regional police authorities said Monday night.
Among the 140 dead, 57 bodies were retrieved from the streets, while the other victims were confirmed dead in hospitals, Liu Yaohua, the regional police chief, told a press conference.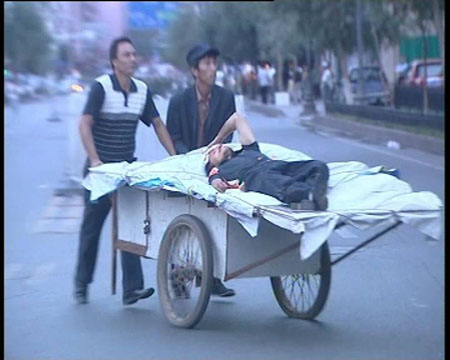 Photo released by police shows two citizens carrying a wounded person in Urumqi, capital of northwest China's Xinjiang Uygur Autonomous Region on July 5, 2009. [chinadaily.com.cn]
Liu said police were searching for about 90 key suspects in the city.
"Police have tightened security in downtown Urumqi and at key institutions such as power and natural gas facilities, as well as TV stations, to prevent large-scale riots."
Checkpoints have also been set up throughout the city as well as in neighboring Changji and Turpan prefectures, to prevent any suspected rioters from fleeing, Liu said. More than 100 officials from several ethnic groups in adjacent areas have been brought in to the regional capital to help interrogate suspects, he said.
Police have got clues that some people were trying to organize more unrests in Kashi City, Yili Kazak Prefecture and Aksu City.
An initial investigation found that the unrest was masterminded by the World Uygur Congress (WUR) and led by Rebiya Kadeer, regional authorities said.
Kadeer lives in the US.
"The unrest was a pre-emptive, organized, violent crime. It was instigated and directed from abroad, and carried out by outlaws in the country," a government statement said Monday.
The WUR had recently started stirring unrest via the Internet, among other means, calling on people "to be braver" and "do something big", the authorities said.
Nur Bekri, chairman of the regional government, said in a televised speech that the riots followed a dispute between Uygur workers and local people in a toy factory in Guangdong province on June 26. Two Uygur workers were reportedly killed during the factory brawl, which occurred after rumors that Uygur workers sexually assaulted Han female workers.